2021 GIULIA SAFETY SYSTEMS
2021 GIULIA SAFETY SYSTEMS
Posted on June 23, 2023
As a world-class luxury sedan, the 2021 Giulia is loaded with anything and everything a driver would demand out of their vehicle. Not as glamorous as raw power or aesthetics, having innovative and well-rounded safety systems are just as essential to your ride as any other factor. Of course, the Giulia is a leader in safety as well. Read along with the experts here at Alfa Romeo of Oakville as we take a deep dive into the many safety features that come with the 2021 Giulia
Welcome to Semi-Autonomous Driving
Experience semi-autonomous driving with this luxurious package, standard on Ti, Ti Sport, and Quadrifoglio models. Autonomous driving is shaping up to be the way of the future, as an uber-safe solution to human error. With your 2021 Giulia, you'll receive Alfa Romeo's Advanced Driver Assistance Systems, semi-autonomous driving level 2. Your vehicle will assist you with the accelerator, brake, and steering in certain conditions. Though feelings can be mixed with uncertainty and excitement, the result of this system is a significant boost in safety and of course overall comfort on a longer drive where you may experience fatigue.
Decrease Your Stress
Your Giulia's semi-autonomous driving includes other fantastic safety assists, including:
Lane Keep Assist
Active Blind Spot Assist
Driver Attention Alert
Traffic Sign Recognition
Highway and Traffic Jam Assist
Highway and Traffic Jam Assist
Frustrated with tight traffic jams? Feel like relaxing? Simply just keep your hands on the wheel. This innovative assist will do the rest of the work for you, adjusting your speed, braking, and steering based on traffic conditions. This of course works in tight urban traffic as well as long stretches of highway.
Lane Keep Assist
If you're struggling to keep your Giulia in line with your lane, your safety systems will assist you with that as well. Lane Departure Warning with Lane Keep Assist will gently make adjustments to your steering if the system senses you drifting out of your lane and into a compromising position.
Driver Attention Alert
This innovative algorithm will collect data from your driving and alert you if it senses that you're too distracted or fatigued on the road. Driver Attention Alert will flag you to take a break and help promote distraction-free driving.
Active Blind Spot Assist
Because what's more dangerous than having someone in your blind spot without your knowledge? This handy system will provide a visual warning when other drivers slide into your blind spot. Stay safe when you're switching lanes.
Adaptive Cruise Control
The Giulia utilizes cameras and sensors, determining the flow of the traffic around you and in turn setting an appropriate cruise control speed. Adaptive Cruise Control is also of course, adaptive, and will change its speeds to match the flow of traffic. Either at slow or high speeds, have that extra peace of mind.
Traffic Sign Recognition
Your Giulia's sensors will also work to recognize traffic signs, from stop signs to speed limits. The vehicle will synergize with the appropriate signs, helping to apply the brakes and maintain the speed limit where necessary.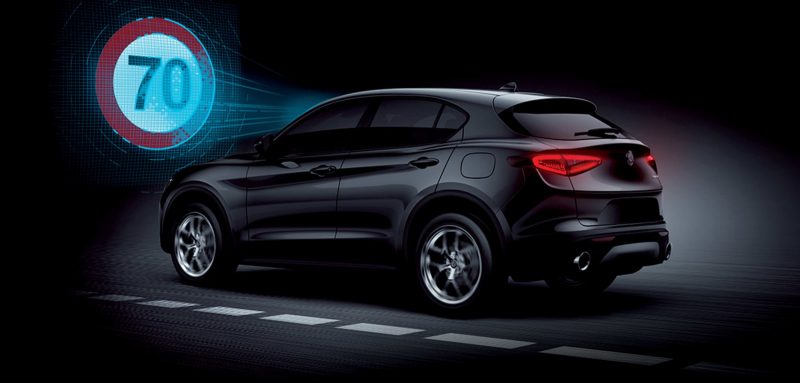 Though safety can be overshadowed by flashier features such as power and aesthetics, you'll be able to find world-class safety on the 2021 Giulia, and of course a taste of the next generation of safety that is semi-autonomous driving. Our experts at Alfa Romeo of Oakville are always willing to educate you further on the safety of the Giulia and our other models. Come test drive one of our vehicles and experience superior Italian craftsmanship. Book your appointment with us, today.