2021 STELVIO SAFETY SYSTEMS
2021 STELVIO SAFETY SYSTEMS
Posted on June 26, 2023
Refined and sophisticated, as far as SUVs go, nothing on the market is like the Alfa Romeo Stelvio. The Stelvio is unique with its eye-catching design, and exhilarating with its 280 horsepower and 0-100 km/hr time of 5.6 seconds, good for a best-in-class rating. However exciting those aspects are, one essential pillar of the Stelvio's build is arguably the most intriguing of all its features. That of course, is its safety systems, integrating semi-autonomous driving for extra peace of mind on the road. With this new technology, the Stelvio is as riveting as an SUV option as there is, and of course, it is available right here at Alfa Romeo of Oakville. Follow along with us as we look further into the safety offered by the 2021 Stelvio and semi-autonomous driving.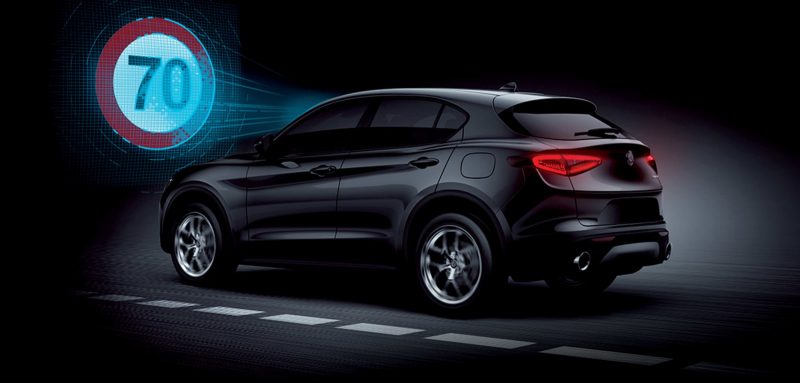 The Future is Now, Explore Semi-Autonomous Driving
Sometimes we all could all deserve a break, no matter how much you love the thrill of driving an Alfa Romeo vehicle. With semi-autonomous driving, now standard on Ti, Ti Sport, and Quadrifoglio models, you'll be able to experience driver's assists like no other. Proven and reliable, don't let yourself or your loved ones be susceptible to human error and driver fatigue. The Stelvio arrives into 2021 with Alfa Romeo's Advanced Driver Assistance Systems, semi-autonomous driving level 2. This means that your Stelvio will assist you with the accelerator, brake, and steering in certain conditions. This technology vastly improves overall safety and will keep both yourself and those who are most important to you from potentially dangerous situations.
The Safest Drive Ever
The Stelvio's semi-autonomous driving features and safety assists include:
Lane Keep Assist
Active Blind Spot Assist
Driver Attention Alert
Traffic Sign Recognition
Highway and Traffic Jam Assist
Highway and Traffic Jam Assist
If traffic is congested and you're becoming frustrated with the constant starting and stopping, Stelvio provides you with a solution. Keep your hands on the wheel and the Stelvio will do the work for you, adjusting your speed, braking, and steering all based on traffic conditions. No matter what road or highway you take, the Stelvio will have your back.
Lane Keep Assist
Avoid unwanted collision and stay safe in your lane thanks to Lane Departure Warning with Lane Keep Assist. This system subtly makes adjustments to your steering when the system senses you drifting out of your lane.
Driver Attention Alert
Driver Attention Alert scans and alerts you based upon your driving performance. If the system senses you're fatigued or distracted on the road, it will suggest that you take a break!
Active Blind Spot Assist
Stay aware of your surroundings with Active Blind Spot Assist. A visual warning will cue anytime another vehicle on the road enters your blind spot. Maintain a 360-degree vision of your surroundings and switch lanes with confidence.
Adaptive Cruise Control
This system utilizes cameras and sensors throughout your Stelvio and determines the flow of the surrounding traffic while your cruise control is active. Adaptive Cruise Control will adjust its speed to match the appropriate speed of the current traffic flow. The system adapts, speeding up and slowing down to keep you at safe distances from other vehicles.
Traffic Sign Recognition
Never miss a sign on the road. Your Stelvio will read and recognize road signs as you drive and help assist you with appropriate braking and acceleration. Keep in check with speed limits, stop signs, and more!
Safety has reached a new era with the introduction of semi-autonomous driving, and though the technology can be frightening to some, let our experts at Alfa Romeo of Oakville guide you through the ins and outs of Stelvio's semi-autonomous assists! Of course, there's no better way to experience them than swinging by the dealership and test-driving one for yourself. Experience fine Italian luxury and book your appointment with us, today!